Bring Your Soil Health to Life
If you're a grower looking for a biological product to give your soil health a boost, look no further.
The NUTRIO line of products from Wilbur-Ellis uses beneficial microbials to kick your soil into action, improving plant health and yield potential. Microbials included in NUTRIO products are vital to your soil health, critical to maintaining soil structure and sustaining the growth cycle of plants by keeping nutrition in the soil during these cycles.
Improves Soil Health
Through the use of beneficial soil microbes that wake up your soil.
Increases Environment Hospitability and Plant Health
By giving your plants the unseen benefits they need to increase your yield.
Elevates Nutrient Response
In your crops by keeping nutrition in the soil.
See NUTRIO's Crop Benefits in Action
How NUTRIO Affects Your Crop Nutrition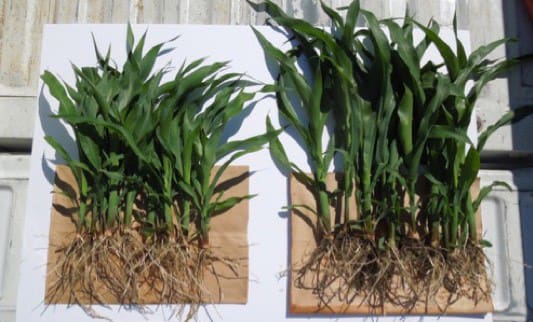 2016 Visual Responses – DE Corn
Control (left) vs PURIC® + NUTRIO UNLOCK® at 16 oz/acre each (right)
2016 Visual Responses – MI Soybean
Control (left) vs NUTRIO UNLOCK® at 16 oz/acre (right)
2016 Visual Responses – WA Peas
Control (left) vs NUTRIO UNLOCK® at 32 oz/acre (right)
2016 Visual Responses – WA Spring Wheat
Control (left) vs NUTRIO UNLOCK® at 8 oz/acre – 1×1″ (right)
2016 Visual Responses – WA Spring Wheat
Control (left) vs NUTRIO UNLOCK® at 8 oz/acre – 1×1″ (center) vs NUTRIO UNLOCK® at 6 oz/cwt seed treatment (right)