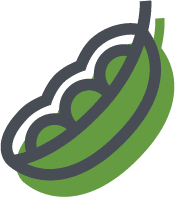 Features & Benefits
Enlist® Technology

TOUGH AS NAILS!

Performance across variable yield environments

Bottom-end torque that will lift performance on tough acre
Characteristics
Flower Color: Purple
Pubescence Color: Light Tawny
Pod Color: Brown
Hilum Color: Black
Plant Type: Medium
Plant Height: Medium-Tall
Phytophthora Gene: Rps 1k
SCN Gene: PI 88.788
Agronomics
Emergence: Excellent
No-Till: Excellent
Wide Row Adaptation: Very Good
Stress Tolerance: Excellent
Standability: Average
Chloride Sensitivity: N/A
Disease Tolerance
SDS: Very Good
PRR Field Tolerance: Above Average
IDC Tolerance: Average
BSR: N/A
White Mold: Average
Root Knot: N/A
Stem Canker: Excellent
Frogeye: N/A
Cercospora: N/A
Herbicide Tolerance
Gyhphosate: Yes
Glufosinate: Yes
Dicamba: 
2,4-D Choline: Yes
STS: 
Yield Environment Placement
Tough: Excellent
Variable: Very Good
High Yield: Average
Soil Placement
Stress Prone: Excellent
Variable: Excellent
Poorly Drained: Above Average
Highly Productive: Average
may vary from location to location and from year to year, as local growing, soil and weather conditions may vary. Growers should evaluate data from multiple locations and years whenever possible.Contact your state pesticide regulatory agency to determine if a product is registered for sale or use in your state. Always read and follow label directions. The transgenic soybean event in Enlist E3® soybeans is jointly developed and owned by Corteva Agriscience LLC and M.S. Technologies L.L.C. Enlist Duo™ and Enlist™ 1 are the only 2,4-D products authorized for use with Enlist™ crops. Consult Enlist herbicide labels for weed species controlled. Always read and follow label directions.