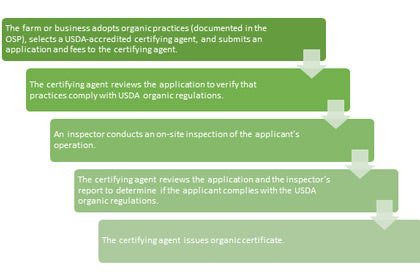 National Organic Program (NOP)
The National Organic Program (NOP) is a regulatory program housed within the USDA Agricultural Marketing Service. They are responsible for developing national standards for organically-produced agricultural products. These standards assure consumers that products with the USDA organic seal meet consistent, uniform standards. It is important to note that NOP regulations do not address food safety or nutrition.
More directly, the USDA organic regulations describe organic agriculture as the application of a set of cultural, biological, and mechanical practices that support the cycling of on-farm resources, promote ecological balance, and conserve biodiversity. These include maintaining or enhancing soil and water quality; conserving wetlands, woodlands, and wildlife; and avoiding use of synthetic fertilizers, synthetic pesticides, sewage sludge, irradiation, and genetic engineering.
There are 5 simple steps a grower must follow to be certified. The first step includes creating the Organic System Plan, OSP. Wilbur-Ellis can play an important role in helping the grower stay within their OSP.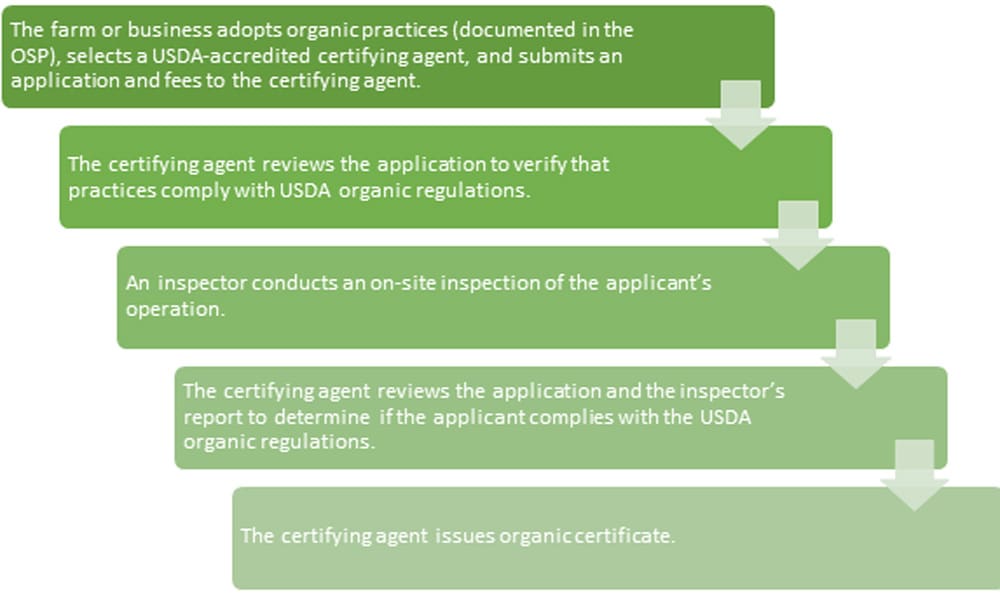 This is a Yearly Exercise of Being Audited and Paying the Certification Fees
Key definitions for the organic program and related aspects:
During the transition period, Wilbur-Ellis can provide guidance on inputs, nutrition and pest management. Over the next few months more information on products (branded and not), nutrition management, cropping plans, pest management, and more will be coming your way.
OFPA – Organic Foods Production Act, this 1990 act of Congress mandated the creation of the National Organic Program
NOP – National Organic Program – regulatory program housed within the USDA Agricultural Marketing Service responsible for developing national standards for organically-produced agricultural products.
ACA – Accredited Certifying Agency, a certifier. This is the entity that certifies growers and they follow the regulations set up in the NOP. There are currently 80
ACA's accredited and authorized to certify operations to the USDA organic standards. A grower must be certified by one of the ACA's; examples include, CCOF, Oregon Tilth, QAI.
OSP – Organic System Plan, a detailed description of the practices and procedures used by your operation to produce organic goods. Operations must update their OSP as changes occur.
CCOF – California Certified Organic Farmers, an ACA based in California and an advocacy group for organic production
OMRI – Organic Material Review Institute, a for-profit 3rd party listing entity that determines whether a product used in the production of organic products is compliant with the NOP standard for allowable additives. Products are not certified or registered, they are simply listed, so as not to be construed as a guarantee.
WSDA – Washington State Department of Agriculture, a fee-based 3rd party listing agency for organic products, similar to OMRI
CDFA – California Department of Food and Agriculture, all organic fertilizers used in the state of CA must be registered with CDFA
OIM – Organic Input Material, CDFA labeling for organic crop inputs that can be used in California.
NOSB – National Organic Standards Board, an advisory board of 15 volunteers that write the standards for the NOP
Frequently asked questions:
What does it mean to be certified organic?

Organic certification is a process claim, not a product claim, and the OSP is the principal document that describes the production process on a specific farm. The OSP must follow the guidance of the NOP, the certifier determines if the OSP is appropriate and if the grower has followed it. If both are affirmative, any commodity grown on those fields can be marketed as organic.
Crop inputs are not certified organic, they are approved for use in organic production. The certifier makes the final determination.

What makes a product organic?

Any product that is produced following the standard set by the NOP. These products can be sold as organic products and can have the USDA Organic Product seal.

How do I know if my crop input is allowed in organic production?

Products used for organic production must fall within the NOP criteria. Organic Product inputs listed by OMRI, WSDA or CDFA fall within the NOP criteria for organic use. Most ACA's accept OMRI or WSDA product input listings. If a product is not listed with a listing body, a materials request must be submitted to the grower's ACA on a case by case basis for approval of use. Any input that is not on the producer's Materials List cannot be used.
When making recommendations it is important to ensure the product is labeled for the desired use and that it is on the grower's Materials List in their OSP.
Organic Resources
Introduction to Organic Practices Fact Sheet
Guide for Organic Crop Producers
Guide for Organic Certification