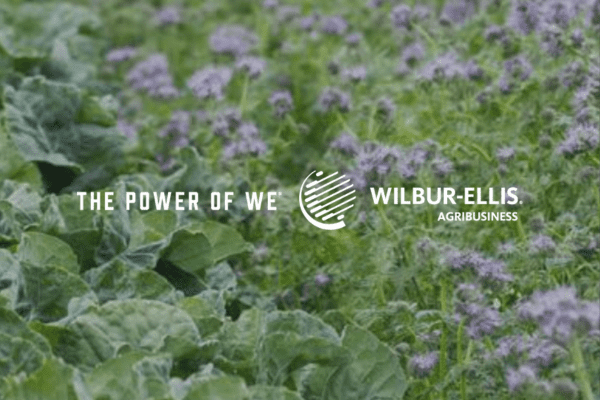 Organic Micronutrients Chelated with Plant Protein Hydrolysates
PRODUCT INFORMATION
Amino acid-based nutritional products from Wilbur-Ellis Company, LLC, are superior quality fertilizers that are approved for organic agriculture and formulated for applications to a wide variety of
agronomic crops, recreational turf and horticultural plants. The amino acid chelating and complexing agents contained in these products are unique in that they are 100% derived from a consistent stream of non-GMO soybeans.
BACKGROUND INFORMATION ON AMINO ACIDS AND PROTEIN HYDROLYSATES
Amino acids are the building blocks of proteins in plants and animals and essential in metabolic and physical function. Each amino acid is comprised of at least carbon, hydrogen, oxygen and nitrogen. They contain one carboxyl group, one amine group and an R group that determines the specific amino acid. There are over 150 amino acids in nature but only 20 are essential to plants. Amino acids bond together to form peptides; chains of repeating peptides are called polypeptides. Proteins are created from tens of thousands of these peptides and polypeptides.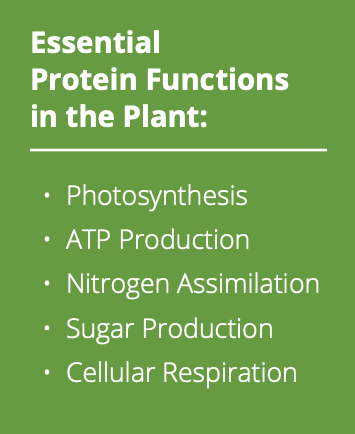 In manufacturing the amino acid complex used in Wilbur-Ellis nutrition products, pure, non-GMO plant proteins undergo hydrolysis, an enzymatic biochemical reaction where water is used to cleave proteins into their constituent peptides and amino acids. The enzymes used are naturally occurring and found in plants and animals. Some enzymes are specific to certain amino acid bonds, enabling a consistent amino acid profile in the final product. Many amino acid-based products produced via enzymatic hydrolysis may be used in organic agriculture.
PLANT NUTRITION BENEFITS ATTRIBUTED TO PROTEIN HYDROLYSATES
Promotes nitrogen assimilation and metabolism, as well as being a source of N
Micronutrient chelation and complexing for increased bioavailability
May increase tolerance to abiotic stress, such as extreme temperatures, drought, salinity, pests and lowlight conditions
Promotes accumulation of sugars and antioxidants
Promotes enhanced root growth for a more favorable root to shoot ratio
Promotes microbial growth in the soil microbiome
USING PROTEIN HYDROLYSATES IN PLANT NUTRITION
In agricultural micronutrient formulations, amino acids and peptides serve as complexing agents and provide valuable nutrition in the form of nitrogen. The complexing power of these compounds is weaker than chelating agents like EDTA, but still enables good tank mix compatibility with pesticides and other spray tank components. Foliar and soil applications can be made with protein hydrolysate-based fertilizers, however, microbial breakdown is extremely rapid in the soil and not recommended. Peptides have good acceptance by plants, as they are rapidly taken in and are metabolic precursors for a number of valuable compounds.
FEATURES AND BENEFITS OF PROTEIN HYDROLYSATE FORMULATIONS OF SECONDARY- AND MICRO-NUTRIENTS
100% plant protein hydrolysates derived from consistent source of high-quality plant protein
Better availability of secondary nutrients and complexing of micronutrients with a plant-based molecule
Consistency in protein source equates to consistency in finished products (critical)
Reduced salt and heavy metal content compared to animal-based protein hydrolysates for greater plant and environmental safety
More favorable amino acid profile than animal-based hydrolysates (e.g. high glutamic and aspartic acids, which play a role in N assimilation)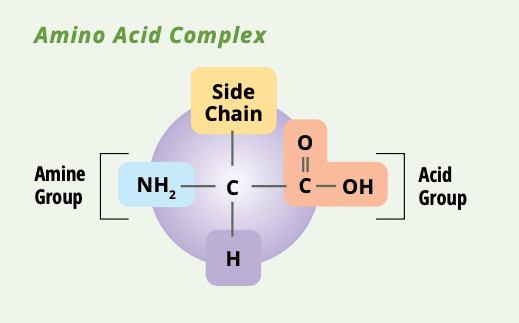 LONG SHELF-LIFE STABILITY
Protein hydrolysate-based fertilizers will be key to your Total Nutrition System® when used according to the label. While the products are approved for organic agriculture, the benefit to conventional crops will be just as evident. Using these fertilizers for foliar applications in combination with other fertilizers will ensure that a conventional crop's nutrition is balanced. For organic agriculture, when used with organic NPK fertilizers sources, protein hydrolysate fertilizers are a excellent source of N to fill short and long term N needs.
Nitrogen assimilation: Glutamine, Proline, Tryptophan, Methionine, Phenylalanine
Essential for effective translocation of nutrients: Glycine, Glutamic Acid, Proline
Micronutrient chelation and complexing agents: Glutamic Acid, Glycine
Increased tolerance to abiotic stress, such as extreme temperatures, drought, salinity and low light conditions: Tryptophan, Adenosine, Arginine
Accumulation of sugars and antioxidants: Glutamine and Arginine
Natural metabolic precursors to plant hormones: Tryptophan and Adenosine
Carl Bruice // National Nutrition Technical Manager