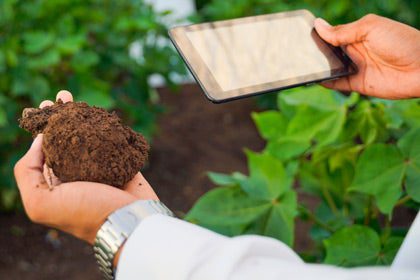 With spring approaching fast and plans to come together rapidly, consider how your fertility, irrigation, and horticulture decisions will be made and evaluated this year. When it comes to samples and laboratory tests, there are many options. A quality, well-thought-out sampling plan will help to produce quality fruit! Here are some ideas to consider before getting into the season on ways to evaluate a crop and achieve production goals:
Soil sampling strategy:

Collect soil samples that are representative of how fertilizer will be applied, either from logistical limits or by soil type. Soil samples do not always have to be confined to every block – perhaps multiple blocks share the same general soil type and only need one representative sample. Perhaps one block has several soil types and needs more refined sample methods to reduce the variability in the block.
We have many options for soil tests and interpretations of soil tests, including:

Readily Available Nutrients (RAN), which measures the solution nutrients available using the irrigation water from a field, and the Root Exchangeable Nutrients (REN), which measures the solution nutrients available under a weak organic acid extraction

Both the RAN and the REN tests are best used in-season, collected consistently either during or between fertilizer injections and applications to either observe the soil solution during fertilization or between. Timing is also ideal during the shoulders of fertilization and the main growing season (for example, during bloom and again right before harvest). The timing and necessity of these tests vary by soil type and crop type.

Texture, which is a fractionation of percent sand, silt, and clay in the soil sample – try this one any time of the year or hand texture your own soil!
Complete Test, which is a strong acid complete extraction of soil nutrients. This soil test is best timed outside of the growing season when the influence of active fertilizers will not be assessed that could be removed from the profile from irrigation (leaching), plant uptake, or other processes.
N, pH, and Salts, to closely monitor injected nutrients on young plants, best timed during fertilization season to guide injection rates
…and many others!
Tissue Sampling

Also collect from areas that are representative of what needs to be observed separately from something else. This may not always be delineated by a block boundary.
Every crop has specific tissue sampling guidelines for petioles, leaf blades, or whole leaf samples
Where the tissue sample is collected changes the insights that can be made (i.e. whether or not the leaf is collected from a fruiting spur or from one-year-old wood)
Fruit Sampling
Fruit sampling procedures are highly developed for apples from millimeter stages to harvest and through the packing house
Fruit can be analyzed for nutrients and other phenolic compounds that influence storability and the progression or likelihood of physiological disorders
The combination, timing, and general sampling strategy of any of the above options is as prescriptive in design as the resulting fertilizer plan, so it is common for similar farms to have unique sampling and fertilization strategies that fit the uniqueness of their farm. That which cannot be measured, cannot be improved! Even if reference data may not exist for a particular test at the farm level or even generally, testing and analyzing plants and soil within a farm to compare and overlay different kinds of data can have immense problem-solving and decision-making value. We have many more tools available to monitor soil and environmental conditions from our agronomy and irrigation water management teams, and we are always happy to help, have discussions and design plans and strategies with you!