Extend the Life of Your Virus Infected Vineyard
Grapevine Leafroll Virus 3 is one of the biggest challenges facing us in Eastern Washington wine-growing areas. In the years since the discovery that Grape
Mealybug was the vector for Leafroll Virus 3 we knew it would be just a matter of time before we would see widespread effects of the virus without good pest control.
These effects include:
Reduced Brix
Reduced Color
Reduced Yield
Delayed Maturity
Decreased
Life Expectancy of the Block
With management, we can manage the spread and slow the movement within a vineyard. However, once a vine has the virus, we cannot eliminate it. We are left trying to manage the stress the virus puts on the vine.
There are a number of stresses a vine experiences annually:
Water Stress
Cold Stress
Heat Stress
Nutritional Stress
Crop Load Stress
Wind Stress
Mildews and other Diseases Stress
Insect Stress
Leafroll 3 virus is just one more layer of stress that we need to manage, or mitigate, to achieve the outcome we need from a vineyard: mature fruit that meets the winemakers' expectations for the style of that block.
Wilbur-Ellis has been looking for a simple way to offset the effects of Leafroll 3 virus in winegrapes. We know we cannot eliminate it, but what if we can mitigate or delay the effects? Can we ensure that a block will stay in production for several additional years before it needs to be replanted?
Since 2018 we have conducted trials on multiple products that have made claims around enhancing or advancing maturity in winegrapes. There were several products that did not perform an advertised. However, from the first year, a couple of products looked promising. After looking at these many different products, combinations, and timings, we have settled on a combination of two products that have proven to offset the effects of the virus over a 3 year period. The 2 products are called Smartfoil and Moka, made by Agrauxine and distributed exclusively by Wilbur-Ellis Company.


This program nutritionally makes it easier for the vine to do what it needs to mature its fruit. When Moka® and Smartfoil® were used at the proper timing and rates, we found over a 3 year period that the wines produced from these grapes were preferred by winemakers over the untreated fruit from the same blocks when tasted in blind trials by winemakers.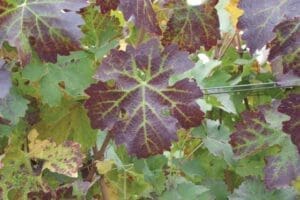 Let's be clear, this is not a silver bullet. We do not eliminate the virus, we do not slow the spread of the virus. We do strengthen the vine, enhance the vine's own survival mechanisms to ameliorate the stresses caused by the virus.
Some of the tasting notes remarks we have received back from the blind tasting trials from local winemakers are:
"This seems like a good option to delay pulling out a virused vineyard"
"The M+S trial is closer to the style I am looking for from this block than the untreated"
"I would prefer a tank full of the M+S treatment than I would the untreated"
Those comments give us confidence that we have found something to effectively mitigate the effects of Leafroll 3 has on your vineyard.
Please reach out to your local Wilbur Ellis vineyard fieldman. We would be happy to have a deeper discussion around your virus challenges and see if we have something that could help you offset the effects of Leafroll 3 is having in your vineyard.
 Dennis Devitt, Territory Sales Mrg. & Washington State Viticulturist